Underwater Camera Framers
Tool-less PVC underwater camera framer systems (2003-2005):
Technology: Camera housing mounts were machined from nylon and designed to precisely hold modern underwater digital camera housings and strobes. Detents, indexed adjustments, and quick releases made the framer system completely adjustable, and repeatable underwater. The framers were negatively buoyant, hydrodynamic and light enough for divers to swim with and manipulate on delicate benthos, and tough enough for the rigors of field work. PVC was used for flexiblility, slight negative buoyancy, and affordability. Other plastics, stainless steel and aluminum were selected for use in saltwater. Fields of view ranged from 0.1875m2 to 0.75m2. Some designs were capable of being broken down into duffle bags for travel to, and use in, remote field locations. Many of the systems are still in use today (2013).
Science: The sampling methodology known as the belt transect requires underwater cameras with wide angle lenses be positioned at fixed distances above coral reef substrate. Fixed camera height captures a fixed, repeatable photographic area. The framer's tool-less design prevented divers from having to carry additional gear, and expedited adjustment resulting in reduced air consumption and increased bottom time. The framer base ensures photos were taken perpendicular to the reef substrate (nadir) in order to minimize lens distortion effects. Belt transects are created by positioning the framer along strategically positioned pins affixed in the reef substrate, allowing for repeatable framer positioning from year to year. Fixed camera height along with repeatable framer positioning along the reef allow individual images to be stitched together, creating a cumulative photographic collection of a reef site. The photographs are analyzed back at the lab with computer software to determine parameters such as coral coverage, species diversity, and species abundance. Pending sufficient sample size, a transect's worth of photographs can be used to characterize and describe a particular reef site.
Diver installing wide angle lens on a camera housing before sampling.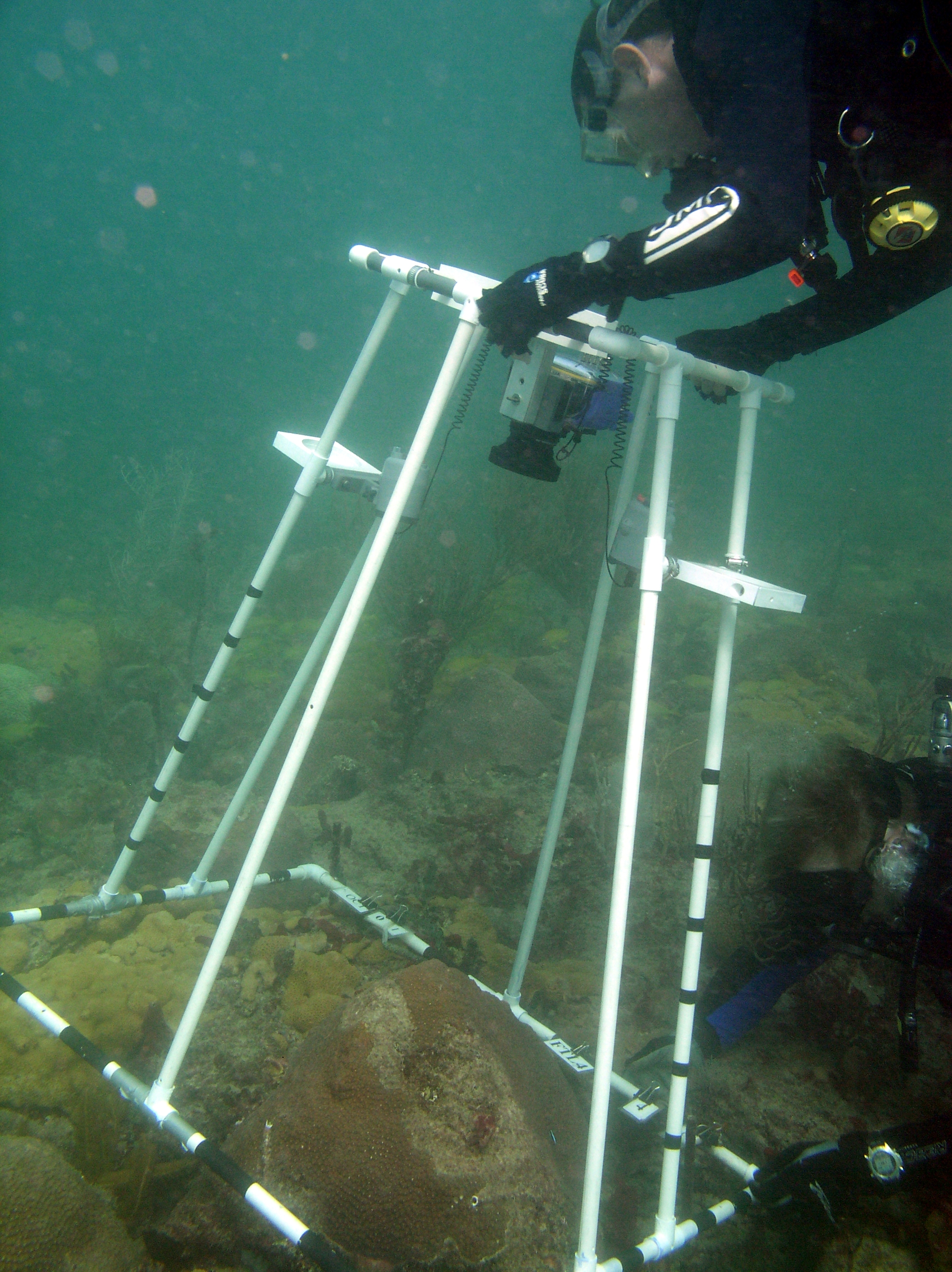 0.75m2 framer with alternate strobe configuration.
0.1875m2 framer used to photograph a transplanted coral.
Reviewing an image of a transplanted coral taken with the 0.1875m2 framer.